Heading into the Triple Crown season, TVG, America's horse racing network and leading advanced-deposit wagering provider, has unveiled major upgrades to the TVG mobile wagering app as part of an ongoing commitment to provide horseplayers a best-in-class online wagering experience.
In addition, the network is introducing special features and on-demand video on its OTT platform, the WatchTVG app, in the lead-up to the Kentucky Derby.
TVG's mobile app, available both for Apple and Android users, now features enhanced betting features and TVG Insights, including expanded information on each horse in every race and summary past performances, as well as access to full past performances with starting price and runner comments and more. These enhanced features help handicappers by flagging and calling out relevant information on horses in categories such as equipment changes, "Horse For Courses", and "Hot Trainer", and to give horseplayers further insight into trends, odds shifts and other important data.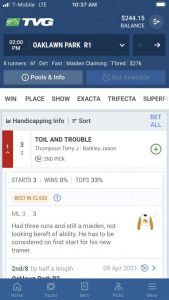 TVG has also introduced dramatic and intuitive improvements to the "Bets" section of the app. A new re-bet feature that allows players to use their selections in multi-race wagers in a new bet should they be eliminated in an early leg. For example, if a player is knocked out of the first leg of a Pick 5, the platform facilitates a Pick 4 wager on the player's remaining selections if the player chooses that option. Other features include approximate payouts and personalized will-pays directly on the betting ticket. And improved navigation lets bettors get to the upcoming leg faster.
There is enhanced viewing functionality as well and horseplayers can watch live video, check pools, access handicapping data and place wagers all seamlessly on one screen.
The video player is now upgraded to HD where available but more importantly is at a significant reduced latency. Video feeds in are faster than before and just a few seconds behind live.
The WatchTVG App is available on Roku, Amazon Fire TV, and Apple TV connected devices. TVG account holders can sign in to the WatchTVG app for free using their existing TVG account login details. Non-TVG account holders can sign up for a 7-day free trial.