International Game Technology PLC announced that it has extended its historical horse racing (HHR) portfolio to include performance-driving Wheel of Fortune®-themed games. The highly anticipated games debuted at Churchill Downs Incorporated ("CDI") HHR facilities throughout Kentucky, marking the first licensed theme IGT has introduced into the HHR market.
IGT deployed a total of 40 CrystalWheel™ cabinets featuring an HHR version of the exciting Wheel of Fortune Cash Link™ Exotic Far East theme throughout Derby City Gaming in Louisville, Oak Grove Racing, Gaming & Hotel in Oak Grove, and CDI's newest Kentucky property, Newport Racing & Gaming in Newport.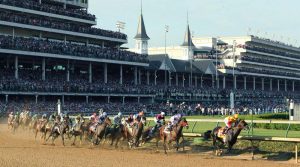 "CDI is happy to partner with IGT once again, to offer our patrons premier gaming content and experiences," said Austin Miller, CDI Senior Vice President, Gaming Operations. "IGT's Wheel of Fortune HHR games are a celebrated addition to our gaming floors and nicely complement the other top-performing games we offer, many of which are also from IGT."
"IGT is thrilled to introduce the legendary Wheel of Fortune brand to the HHR market through these three CDI properties," said Nick Khin, IGT Chief Operating Officer, Gaming. "The HHR version of Wheel of Fortune Cash Link Exotic Far East engages players with its three progressive jackpot levels, free games bonus, and the exciting Cash Link feature."
The CrystalWheel cabinet is IGT's next generation Wheel of Fortune gaming machine and features a large three-dimensional top wheel providing prominence on any gaming floor and showcasing the most popular slot theme of all time.